The House of Yahweh 2017 Calendar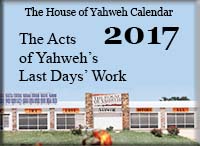 Welcome to The House of Yahweh where you can learn how, where and when to keep your appointments with our Creator and Heavenly Father YAHWEH. Here you may freely download our 2017 Calendar which will give your the history of The Acts of  Yahweh's Last Days' Work.
This Calendar contains: Yahweh's Sabbath days, Feast days, New Moons times, sunset and moon set times, Scriptural readings, sermon quotes, House of Yahweh history facts, information on books that are vital to your salvation, and more!
You can  use this Calendar as a learning tool to help you and your family learn of the Law and the Prophets concerning Yahweh's Greatest Work in the history of all mankind, as well as find the important dates that you and your family need to know in order to prepare to come to Abel so we can rejoice before Yahweh as we gather at the place that He has chosen.
Download it on your phone to carry it with you as a constant reminder or your tablet or desktop to have the vital information you need to come appear before Yahweh.
But you are to seek the habitation of your Father; The House of Yahweh–the place which Yahweh your Father shall choose out of all your tribes to establish His Name–and there you must go.  – Deuteronomy 12:5